These pages were done entirely by Zak Nilsson. Here's some more pictures.
The East Coast SR20DE.net Drag Day
Here it is! All the pictures we took May 18th at New England Dragway.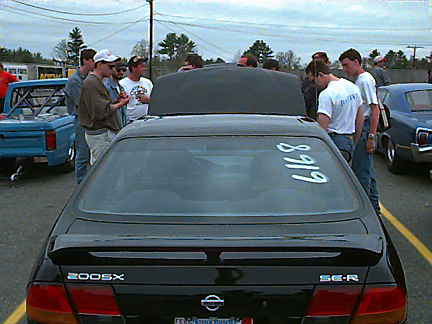 So here's what happened. We all arrived at different times, I got there around Ten and almost everybody was already there. Ken Pratte showed up at about 10:30, and Aaron and George both got there a bit after that. Chris had gotten some runs in, and Brian, Kyle and John all lined up and ran. Before we went to lunch we took some group pictures and hung out for a bit.
Jim Anderson arrived at about 12:30 or so and jumped right in. We saw Jim heading towards the drag strip as most of us were taking off for lunch. I wonder if he noticed the SR20DE caravan going the other way... :-)
After lunch George registered and ran and then we got some serious runs in. We formed "Nissan Alley" and ran in pairs. We got our runs in and got our timeslips, and it was over. It was a great show of solidarity, we seemed to be the biggest group there. We were the only Japanese cars there except for one RX-7 and an Eagle Talon. I think we really put the fear into 'em with the "Sentra" badges.
All in all it was great fun and I wouldn't hesitate to do it again. I highly recommend getting together in groups like that to go to drag strips; it's really great.



WARNING!
These pages are absolutely loaded with pictures (I'm talkin' 500-600k of images per page at least), so it'll take some time for your browser to download them all. So click below and go get some coffee or something.
Pick a category.




| Race Shots | Various Car and People Shots | Trophies & Timeslips |



---