Welcome to the National SE-R Convention page!
Sponsored By: JWT, JUN, Stillen, DPR, Place Racing, Motul, Stranos, Nissan Motor Corp, Puente Hills Nissan, Performance Nissan, Apexi, Zoom, Eibach, Hotshot, SMC Products
---
---
The poster is 8.5x11", so you can download it and print it out for a nice looking flyer to slap on unsuspecting SE-R's windshields. ;)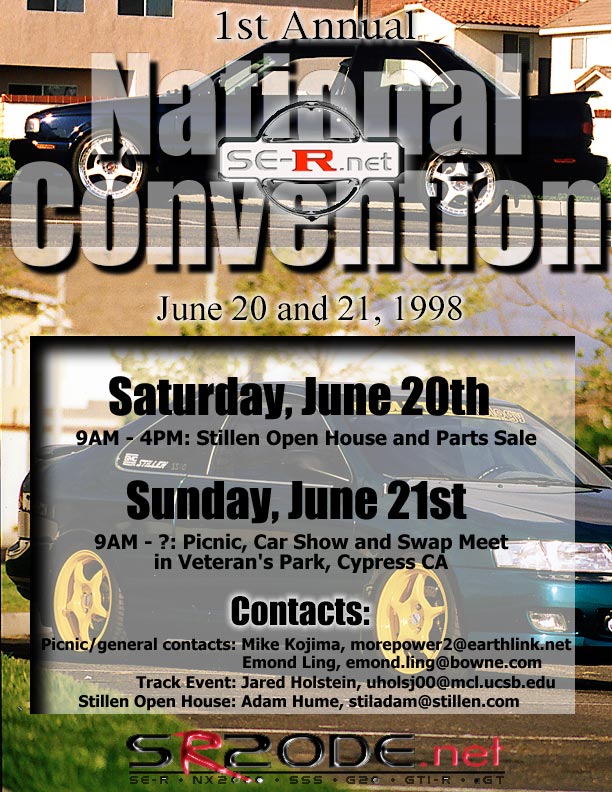 ---
Event costs (approx.)
Stillen kick off (free!)
Picnic/car show $8 (see raffle below..)
Let Emond Ling and Jared Holstein know if you are planning to attend. THIS IS VERY IMPORTANT! FOR US AND OUR SPONSERS!!!!
Last year 15 signed up and 75 showed up. This was difficult to deal with. PLEASE DON'T DO THIS TO ME AGAIN!! Help us out with the planning.
Also if you are from out of town, let Emond Ling know if you need lodging. If we get more than 10 we will book a group deal at a nice place conveniently located.
---
Click on the links below to find out how to get to the scheduled events. If you need point-to-point directions, click on Driving Directions when you get to the map page.
Saturday's Event: Stillen
Sunday's Event: Veteran's Park
---
The cost to buy one raffle ticket is $8, it is to support the SE-R.net website and Larry's mailing list so you can donate more than the $8 if you are feeling magnamimous.
You don't have to attend the picnic but your name will be entered into the raffle.
Register by sending a cashiers cheque or money order in the amount of $8 to:
Jared Holstein
c/o Tom Paule
11722 Lower Azusa Road
El Monte, CA 91732
**RAFFLE TICKETS WILL BE limited TO THOSE WHO PRE-RESISTER ONLY!**
One $8 donation will get you one raffle ticket. $40 will get you 5 tickets. You can buy as many tickets as you want. BUT payment MUST be received by June 20th or you will NOT be eligible for the raffle.
If you want to make donations separately to Se-r.net and to Larry's mailing list, please include a note with your money order/cashiers cheque saying that X amount of $$ will be for donation only.
You don't have to attend the picnic but your name will be entered into the raffle. If you win, you pay the shipping cost.
---
The SE-R.net vs. VTEC.net Drag Day has been due to a lack of interest from both parties. The events scheduled for Saturday and Sunday will continue as planned. Stay tuned as we update this page with new information about what will be happening on Monday.
---
Lodging Details
Here are some preferred lodging sights within 2-4 minutes of Veterans Park in Cypress. All recommended places are in safe, nice neighborhoods. All are within 25 Minutes of Stillen.
Courtyard By Marriot 5865 Kattella, Cypress (714) 827-1010
$69 weekend rate, single king or 2 twin beds Full service hotel with restaurant, Gym, pool etc... Nice area, next to El Torito, Mitsubishi and Yamaha national headquarters
Woodfin Suites Hotel 5905 Corporate, Cypress (714) 828-4000
$99 weekend rate, full on, multiroom executive suite with free food and drinks! This is a really nice place, my recommendation. A good place to stay if your wife or girlfriend is coming with you. Next to Marriot.
Los Alamitos Inn 10591 Los Alamitos blvd. (562) 598-2200
$44 single $49 double, no weekend rate. Not luxurious or anything but a fairly new place. Nice and clean in a safe area. Not too many hookers or crackheads hanging out. If it's just the guys or if you just want a place to crash, this is it. 2 minutes away from Veterans Park.
---
Caravanning to Stillen
There are several caravans getting together to make the trip up / down / over to LA. For information regarding a caravan in your area, contact the person listed below. If you'd like to start a caravan and post it here, contact Mike Mager. I will post caravan additions/changes as I get them.
Location
When & Where
Contact
Bay Area
(Northern Cali)
So far the plan is to meet at "Casa De Fruta" on HWY 152 (the freeway we will use to cut over to HWY 5 from 101). Casa De Fruta is a rest stop/food area just east of 101 on HWY 152. Click here for a map of it. Meeting time (which may change) is 7:00 pm on Friday (6/19).
Erik Olson
San Diego
(Southern Cali)

Meet at Denny's: 889 Palomar Airport Rd., Carlsbad. Saturday (6/20) morning, 7 a.m. Be there or be left behind :) Denny's tel # (760) 438-0477. Click here for a map.

Mike Mager or
Ryan Besterwitch
TX, NM, AZ
Going from Houston to Sonora, TX on 6/17, then to Las Cruces, NM and then to Phoenix, AZ on 6/18. Then going to LA on 6/19.
George Roffe