The Limit of Bolt-Ons
by Shell Black
---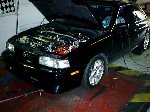 My best horsepower rating was back on 10/8/97 @140.7 at the wheels (162.5 at the crank @ 16%). This year the last two runs on two different dynos were repeatable at 135 (161.6 HP at the crank @16%). What have I done different? I have added The Place Cold Air Intake, Stillen Fuel Pressure Riser (and disconnected when I could not tune in any more HP on the dyno), and Unorthodox Racing pulleys. Track times have not been better than Houston at 15.022 in December of 97, but I have hit 15.095 and 15.098 this year at Ennis. With poor 60' times I am a consistent 15.2. With slicks I feel confident I can break into the 14s.
What I wanted to illustrate was how difficult it is to pull HUGE horsepower out of our car with bolt-ons. I have only realized a 16% overall increase in horsepower over stock. Now granted my car now has 109K and is running the original motor - your mileage may vary.
Below is the list of modifications on my car. It may be disappointing in comparison to what some Hondas are achieving with a lot less money. As Mike Kojima has illustrated, to get upwards to 200hp on a naturally aspirated SR20DE, you are going to open the block and get high tech. The moral is that unfortunately you can only get so far with bolt-ons:
Power
Other

Borla Stainless Steel Exhaust
JWT Street Cams
JWT ECU
Magnecor 10mm Race Wires
Nismo Radiator
Place Racing Cold Air Intake w/ Stillen POP Charger / K&N
Random Tech Cat
Stromung B-Pipe
Stillen Flywheel
Stillen Header
Stillen Over-Bored Throttle Body
Stillen Over-Bored Mass Air
Stillen Fuel Pressure Riser (disconnected)
Unorthodox Racing Pulleys

Eibach Springs
Enkei RS Evolution 16X7 w/ Falken FK-04GRB 205/45-16
Hella Air Horns
JWT Motor Mounts
JWT Pressure Plate w/ Stock Clutch
Metal Master Pads
Nismo B13 Calipers w/ Master Cylinder
Nismo Front Air Dam
Redline Fluids
Schroth Ralleye 3 Harness
SMC Cross Drilled Rotors & Stainless Steel Lines
Stillen Valve Cover and Oil Cap
Stillen Short Shifter
Stillen Camber Plates & Strut Tower Brace
Suspension Technique Front & Rear Sways
Tokico Shocks
Note: Timing chain and 100% of associated parts were replaced at 95K, and brand new tranny was installed as well.
The two dyno runs scanned in are from Team DynoTech and Area 51 Performance in Dallas Texas from 1998. The hand written notes on the Team Dynotech were the fuel pressure settings as I was trying to tune in the Stillen Fuel Pressure Riser. It was very easy to dial in too rich or too lean so I finally disconnected the upgrade. One horsepower is there, but not much more.
Dyno on 10/08/97: 140.7 HP/131.4 Torque (Pre-CAI)
1/4 mile Houston on 11/15/97: R/T.589, 60' 2.165, 15.022 @ 88.85
Current Mileage: 109K
---
| | |
| --- | --- |
| | |
| Area 51 (109 Kb) | Team DynoTech (98 Kb) |
---