More SE-Rious Sentra
---
[Put into HTML format by Dan Thompson]
This article originally appeared in the Turbo & Hi-Tech Performance July 1993 issue and was reprinted with permission. For more information on Turbo Magazine check out their website.
---
To refresh your memory in the May issue we ran a story on the '91 Nissan Sentra SE-R modified by Grimmer-Philips. Simon Purves of Grimmer-Philips installed a Grimmer-Philips Pop-Charger high-flow air filter, a Jim Wolf computer, Grimmer-Philips cat-back exhaust, G.A.B. adjustable shocks, Eibach springs, larger sway bars and a Grimmer-Philips Trackpro braking package. The car also had a Grimmer-Philips short-throw shifter installed and DP Motorsports Enduro wheels with 205/55ZR15 BFGoodrich Comp/TA III radials mounted on them.
Our baseline and modified performance figures were severely compromised by a worn clutch that succumbed to 30,000 miles of LA rush hour log jams. Our baseline was 8.49 but published stock SE-R times are in the 7.8-8.0 second range. The best modified time was 8.20. The slow times weren't the only indicator of a worn clutch, the individual times are usually within .40 of a second or so of each other, depending on launch characteristics. It took us many runs to get the proper amount of matched figures, which also accelerated the clutch's ultimate demise.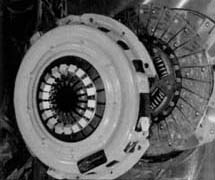 A Centerforce dual friction clutch made all the difference at launch and the critical first to second gear shift. We had been shifting at the Sentra's 7500 redline but learned that the Jim Wolf performance computer ups the redline a couple hundred rpm. Armed with this information and a fresh clutch we set out in earnest to wring the 2.0-liter to its limit. The difference was breathtaking, 0-60 times dropped to a six-run average of 6.48 seconds with a best of 6.34. Special thanks go out to Centerforce who jumped through many a hoop to develop a clutch especially for our SE-R project car. The unit prototyped for this project (part #DF914812) will be manufactured and sold by Centerforce. The clutch will also fit NX2000 applications.