Black Magic
RD Racing's
Turbocharged, Intercooled Sentra SE-R
Text By Al Mamoon
Photos By Shaun Carlson
---
[Put into HTML format by Dan Thompson]
This article originally appeared in the Turbo & Hi-Tech Performance October 1997 issue and was reprinted with permission. For more info on Turbo Magazine check out their website.
---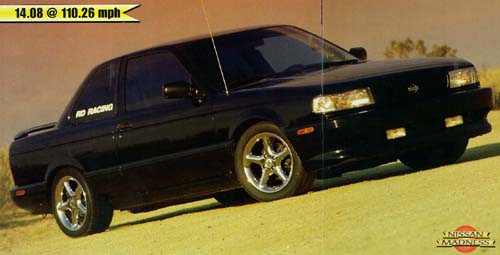 This stealthy black 1994 Nissan Sentra SE-R is the reigning champion of the Battle of the Imports' Sentra SE-R class winning Low e.t. honors at the June '97 event and the Low e.t. and Top mph accolades at the March '97 race. RD Racing cast a spell over the SE-R with its custom-fabricated turbo system.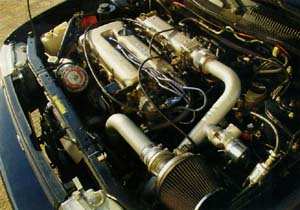 The Sentra's SR20DE engine has been pumped up with RD Racing's turbo system which is one of the more complete systems we have seen for the Sentra SE-R featuring products from RD Racing, Stillen, HKS, GReddy, Turbonetics, Jim Wolf Technology and more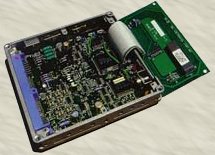 A Jim Wolf Technology (JWT) ECU is in charge of fuel and timing curves. The JWT set-up uses a daughter board with a JWT-programmed chip. The fuel system consists of Infiniti Q45 squirters (370cc) and a Vortech T-Rex fuel pump.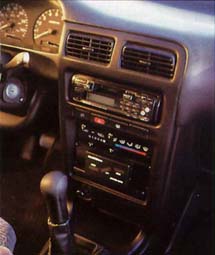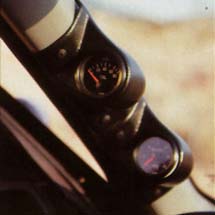 A center dash-mounted Halmeter air/fuel ratio monitor keeps tabs on the combustion process while a Kenwood, Alpine and Kicker stereo system keeps the tunes rolling. Boost and oil pressure gauges from VDO are mounted on the A-pillar.
RD Racing of Canyon Country, California is offering the system to power hungry SR20DE pilots. The heart of the system consists of an RD Racing tubular turbo manifold and Turbonetics T04/T3 hybrid turbocharger. The manifold is constructed of 1.5-inch diameter, 0.130-inch thick mild-steel tubing and is flanged to support the Turbonetics hairdryer. Maximum boost of 12 psi is regulated by a Turbonetics Deltagate and incoming air is chilled by an HKS front-mount intercooler. The intake tract is made up of two-inch, mild steel piping from the turbo to the 'cooler and 2.25-inch piping from the intercooler to the Stillen high-flow throttle body. A GReddy Type R blow-off valve releases pressure when the throttle is abruptly closed. The exhaust side of the turbo leads to a 2.5-inch mandrel-bent downpipe that connects to the catalytic converter, from there a three-inch RD Racing exhaust system with a Sebring muffler evacuates spent gasses. Fuel enrichment is under the direction of a Jim Wolf Technology programmed Nissan ECU. Upgraded fuel system hardware consists of a Vortech T-Rex inline fuel pump which is rated at 50 gph at 70 psi and 370cc Infinity Q45 injectors. For added durability an RD Racing oil cooling system was plumbed into place. Internally, the SR20DE is a totally stock affair.
The suspension system was also deemed up to the task. The only addition is a set of H&R springs that drop the Nissan 1.3 inches at the corners. The wheel-and-tire combination has been upgraded to 15-inch status with Antera Type 123 wheels from Claus Ettensberger Corporation and 195/50-15 BFGoodrich Euro T/A tires. The stock brakes have been pumped up with Stillen sport rotors, stainless-steel lines and Metal Matrix pads. At the strip, a set of Mickey Thompson slicks are snapped into action by a custom Clutch Maters clutch assembly.
The interior digs have been massaged in the name of performance. Boost and oil pressure gauges from VDO are mounted on the A-pillar, while a center dash-mounted Halmeter AF30 air/fuel ratio monitor from TWM induction keeps tabs on the combustion process. For added civility, a wild audio system has been wired up. A Kenwood KRC-860 head unit, a Kenwood 10-disc changer, an Alpine MRV-F300 amp, Alpine speakers and Kicker woofers deliver the tunes in high style.
While at the Battle this Nissan took the Low e.t.s title in Sentra SE-R class with a 14.08-second, 110.26 mph effort. The black Nissan was tied down to the DynoJet chassis dyno where it registered 188.9 horsepower at the wheels. Development of this basic, stage-one package will continue. Future mods include an upgraded MAF sensor, MSD 50 lb/hr injectors, Jim Wolf Technology fuel rail, ignition upgrades, GAB adjustable shocks, Stillen strut tower brace, Suspension Techniques sway bars and 16-inch rolling stock. Also under consideration are low-compression pistons and cylinder head modifications. We hope to see this sleeper running even faster e.t.s at future import racing events.
---
RD Racing Turbo System
Components List
RD Racing turbo manifold
Turbonetics T4/T3 turbo
Turbonetics Deltagate
RD Racing Intercooler piping
RD Racing 3-inch exhaust
HKS front-mount intercooler
GReddy Type R blow-off valve
Stillen high-flow throttle body
Jim Wolf Technology ECU
Infiniti Q45 Injectors
Vortech T-Rex fuel pump
K&N fuel filter
RD Racing oil cooler system
Halmeter AF30
VDO boost & oil pressure gauges
IC piping