by Merlin Johnson
---
A few SR20DE car specs (Sentra SE-R)

Model Code: B13
Engine Code: SR20DE
Horse Power: 140 @ 6400rpm
Torque: 132 lb/ft @ 4800rpm
RPM limited at 7500rpm (200SX SE-R is limited to 7100rpm)
Displacement: 1998cc
Compression: 9.5:1
0-60mph: approx. 7.6 to 8.3 seconds (R&T,MT,C&D)
1/4mile: approx. 15.8 seconds (R&T,MT,C&D)
Weight distribution: 62/38
Brakes: 9.8" vented disks front 9.1" solid disks rear

Weight: 2450lb This measurement was taken with approx. 3 gallons of gas, no AC installed, no cruise, no sunroof, spare tire in trunk, F&R Suspension Techniques swaybars Eibach springs, 195/60VR14s Michelin MXV4s on stock rims on a 92 model SE-R. This is basically The Mule.

Stock Rim Weight: approx. 17lb

Variations: From 91-93 the SR20DE engine was unchanged. In 94 Nissan put in a slightly smaller intake cam in for emissions reasons. In 95 the 200SX SE-R has an even smaller cam, the ports are also lower better "swirl" to help emissions, and the intake manifold is inverted which may help bottom end. It seems that Nissan made a change in clutch feel that started in 93. The 93 models have a lower front air dam and different tail lights. The side bolsters on the 93-96 models are softer than 91-92. The dashboard gauges are simpler from 93-94. 93- models have bubble levels in the headlights for correct aiming. In 1995 on the 200SX there is a solid beam axle, not sure if it is a real problem for street drivers. In 1994 - Nissan started using fuzzy logic to control idle and low speed emissions. In 1995 Nissan went to OBD-II in the Sentras, the G20 had it in 94 I think. Some NX2000s came with the AD22VF brakes if they were made in Japan, even though they didn't have ABS.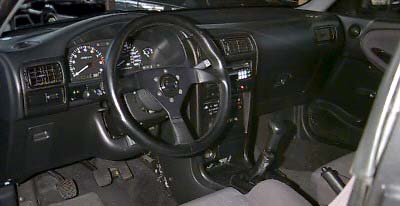 Interior of a typical 92 SE-R with a Momo Monte Carlo wheel (the hub from a pre 91 Sentra or 240SX should fit) and Momo shift knob. This is The Mule, notice the open center console for easy access to the ECU. I do so many changes to the ECU to account for different mods and just in general looking for more power, that it is a major pain in the butt to keep replacing panels. Also notice that right under the ash tray there is another cut out, this was a failed run in with one of those Bear Trackers, which supposedly would detect the Highway Patrol cars. It didn't do squat except screw with my audio equipment and is useless since the CHP went to a different band for their in car repeaters. I cant find my lighter anymore after taking it in and out to run the Vericom computer. The little panel on the left side is where the Consult hooks up. You cant see it, but The Mule has over 90,000 miles, driven and beaten daily. At this time (11/28/96) The Mule has over 115,000 miles and still is running strong, compression and leak down tests are all within a few percent of stock! I attribute most of this to using pure synthetics like Redline. I never did change at 3,000, 4,000 or even 6,000 miles, my oil changes were at 8,000 to 10,000 miles! I was also bad about changing the filter, I would let 6-8,000 miles pass before changing the filter. Invest in a good synthetic like 5-30wt Redline or 0-30wt Amsoil, sure it's 6-8 bucks a quart but you don't need to change as often. Mobil1 is supposed to be good too, but I never used it.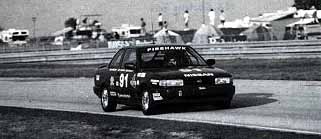 ---