Sport Compact Car - October '98
Driving Impression: 1999 Infiniti G20t
By Mitch McCullough
---
[Put into HTML format by Mike Mager]
The G20 is back! After disappearing from our shores for three years, Infiniti's luxury sports sedan is back for a second shot at the American market. Will it meet our expectations?
PHOTOGRAPHY: Dave Coleman, Nissan North America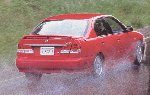 You remember the G20. Infiniti sold it from 1991 to 1996, then dropped it from the lineup. It's back, redisigned and retuned for improved chassis dynamics, making it far more appealing to driving enthusiasts.
This car has been selling well in Europe and Japan for the past few years as the Nissan Primera. Using Germany's legendary Nurburgring racing circuit, Nissan's engineers tuned the suspension for European tastes, resulting in a more controlled ride, improved transient response and increased stability under hard braking. England's Car magazine called it "one of the 10 best handling cars in the world."
You've probably seen ads positioning the G20 against BMW, Audi and Mercedes models. We admit to being a bit skeptical about this. It's a nice-looking car, but the new G20 doesn't look like a BMW. And the interior, especially when trimmed in cloth, won't be confused with anything from Stuttgart. So, as the Infiniti marketing guys rolled through their dog-and-pony show, we couldn't help but wonder: What are these people thinking?
Then we went to Seattle International Raceway where Infiniti had assembled a small squadron of G20s, along with an Audi A4 1.8T and a Mercedes C230 for comparison. Over and over, we ran them through an autocross circuit and around SIR's tricky road course. We quickly discovered that Infiniti's new G20 is by far the easiest to drive fast.
Spinning a G20 is practically impossible -- even when the driver commits such a faux pas as lifting off the throttle in the middle of a corner or braking and turning at the same time. No matter what the driver does, the rear wheels will not come unglued. The Infiniti G20 inspired far more driving confidence than either the Audi or the Mercedes -- and the A4 is one of our favorites, earning a spot on last year's Eight Great Rides list.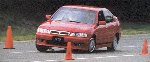 Part of the secret is in the rear suspension. Nissan's rear multi-link beam design replaces the previous strut/parallel link setup. The multi-link rear suspension provides excellent stability in hard braking or during sudden changes of direction. The front multi-link suspension -- similar to that on the original G20, 300ZX and Skyline GT-R -- is designed to provide good camber control and on-center steering feel (for a more in-depth look at the G20's suspension, click here). Front and rear anti-roll bars are standard. On the road, the suspension feels firm and stable, yet offers sufficient compliance to prevent harshness. Slightly softer springs and shocks are used for U.S. models.
The rack-and-pinion steering feels direct, allowing the driver to place the car in a corner exactly where he wishes. Effort changes according to engine speed.
G20s come standard with 195/65R15 Firestone Affinity tires that do not excel in the grip department. Fortunately, the G20t Touring model comes equipped with Bridgestone Potenza RE92s, size 195/60R15, that do a far better job. They offer better grip in corners and are more precise at turn-in.
The brakes never got hot on the G20 -- even after repeated laps of a circuit that included an ABS test, a tight handling course, and hard driving around SIR. They worked just as well in the mountains, providing extrememly stable braking performance. Four-wheel disc brakes are standard. Braking performance has been improved over the old model through the adoption of larger, 11-inch vented front discs. The result is strong braking and excellent pedal feel. A second-generation antilock braking system offers reduced vibrations to the pedal and uses smaller, lighter components.
Compared with the G20, the Mercedes Benz C230 we drove felt big and heavy. With rear-wheel drive and lots of weight to toss around, it was entertaining, but required more attention to weight transfer and use of throttle. The brakes began overheating late in the day and it had to be retired.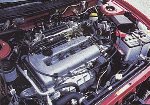 The Audi A4 1.8T we drove was a front-drive turbo, not a Quattro. Front wheelspin was a constant companion, particularly in the slalom. This prevented us from using all of its considerable horsepower coming out of tight turns. The A4 tended toward more trailing-throttle oversteer going into corners and more understeer powering out of them. While driving technique can correct much of this, the A4 seemed less composed than the G20.
The Infiniti G20 gets its power from the same 140-hp, 16-valve, dual overhead-cam four-cylinder SR20DE engine that powers the SE-R. While horsepower and torque remain the same, emissions, noise, vibration and harshness have been reduced. Four motor mounts lessen vibration over the previous three.
Though tractable around town, it's important to keep the revs up when driving in a spirited mode because the horsepower peaks at 6400 rpm. Maximum torque of 132 lb-ft develops at 4800 rpm and there isn't a lot of throttle response below 3000. Though it revs freely to 7000 rpm, this engine does not feel as smooth and refined as a Honda/Acura engine. Overall, it provides good acceleration and shouldn't embarrass its owner, but it still isn't nearly as lively in the G20 as it is in the SE-R. No surprise there -- the G20 carries a 445-lb weight penalty. On the other hand, the G20 still nets 31 mpg on the highway.
Most G20s will be sold with automatic transmissions, but we highly recommend the smooth-shifting manual. Cluch actuation comes relatively high on the pedal, allowing quick, easy shifts. The viscous limited-slip differential directs torque to whichever front wheel offers the best traction. This enables quicker acceleration out of tight corners and may be the best reason to opt for the G20t over the base model. A new mount added above the transmission case reduces noise and vibration.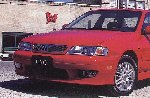 If the new G20 is so great, why did they stop selling the old one here? "It was at the end of its life cycle," explains Infiniti corporate marketing manager Daryl Kenningham. "The luxury entry market was not growing and we had the J30."
Then the near-luxury market began picking up. Infinit's prestige grew and its I30, Q45 and QX4 were received favorably. Customers like Infiniti's Total Ownership Experience, a marketing plan in which Infiniti dealerships are designed to be relaxed, pressure-free places with well-trained sales staff. Infiniti took the top score in the 1996 J.D. Power and Associates Customer Satisfaction Index and scored second in last years CSI. All Infiniti models, including the G20, come with roadside assistance and dealers will loan you a car while yours is being serviced. The four-year / 60,000-mile warranty is a step up from industry norms. But don't expect to see an Infiniti dealership on every corner; there are fewer than 150 of them.
The G20 is built alongside the Infiniti I30 at Oppama, Japan. The I30 earned J.D. Power's highest award in its Initial Quality Survey last year. The G20 receives the same paint inspection process and is built using the same Intelligent Body Assembly System, which ensures body panel fit accuracy within a tolerance of 1 mm.
The new G20 is longer and more luxurious than the old one, but it's also sportier. And in spite of its spacious interior, it doesn't feel like a big car. The styling looks like it was influenced by the European Touring Cars. A big air dam fills mirrors with an aggressive look that's reinforced with side skirts and alloy wheels as it flashes by. Details such as the side-marker lights serve as a reminder of its European education.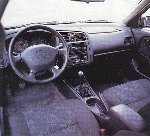 A little BMW can be seen in the C pillar and perhaps a little Mercedes is apparent in the rear end, but for the most part this car looks like a member of the Infiniti family. The shape of the new grille and angle of the cut lines are similar to those of the I30 and Q45. The body features a more pronounced wedge shape than before with a slanted nose, higher body sides and a higher trunk deck. New multi-reflector headlamps present a jewel-like appearance and were redesigned for improved lighting performance.
Stretching across a 102.4-inch wheelbase, the G20 is slightly smaller than an Integra sedan, but it offers more front and rear passenger space with more than 90 cubic feet of interior volume. And the trunk is much bigger than the Acura's.
Firm seats were designed to minimize fatigue. They held us in place at the race track and were a joy while driving along the western slopes of Washington's Cascades. Overall, it's an attractive, highly functional interior.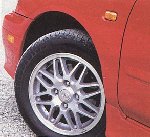 In the cloth trim, the interior seems to say Nissan more than it says Infiniti; it doesn't say class in the understated way of a Mercedes or BMW. Trimmed in leather, it looks decidedly more upscale. Perhaps that's because we Americans are used to seeing European luxury cars trimmed in leather. In Europe, cloth is quite popular. The cloth in the Audi A4, after all, did not look appreciably better than that in the G20. Infiniti executives said they debated about bringing the cloth, but many buyers prefer it. Cloth also brings the car in at an attractive price point for many of the intended buyers.
That price point begins at $20,995 (including $495 destination charge); the base model G20 comes fully equipped.
All G20s come with cruise control, power windows and locks, the premium Bose 100-watt AM/FM/CD/cassette stereo with six speakers, and all the other features associated with luxury performance sedans.
The only major options are an $800 automatic transmission, power sunroof, leather interior with power seats, heated seats, and HVAC filtration system, and a HomeLink setup that will turn on your lights and open your garage door. Most of that stuff comes with a $1,500 leather and convenience package that can be added to either base or touring models.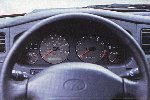 But you'll likely want to step up to the $22,495 G20t touring model, which comes with a viscous limited-slip differential, the Bridgestone RE92s, sport cloth interior, leather-wrapped steering wheel, automatic temperature control, fog lights, and rear spoiler.
That compares favorably to the A4, which ranges from $24,290 to $34,230. An Acura Intergra four-door sedan ranges from $20,435 to $22,835, while a 2.3-liter Honda Accord EX four-door with leather retails for about $22,345. Unfortunately, we did not get an opportunity to test a rear-wheel-drive BMW 318ti, which comes with the optional Sport Package for about $25,000.
The new Infiniti G20 is fun to drive and, in fact, it must be driven hard to be fully appreciated. While torque isn't its strongest point, that can be addressed with some of the same hardware used to add motivation to the Sentra SE-R. Infiniti has set up a web site for this car at www.g20.com.
---
1999 Infiniti G20t
Price as Tested:
$22,495 (includes a $495 destination charge)
Engine
Type:
SR20DE, in-line 4 aluminum block and head
Valvetrain:
DOHC, 16-valve
Displacement:
1998 cc
Bore & Stroke:
86.0 mm x 86.0 mm
Comp. Ratio:
9.5:1
Horsepower:
140 hp @ 6400 rpm
Torque:
132 lb-ft @ 4800 rpm
Redline:
7000 rpm
Drivetrain:
Transverse front engine, front wheel drive
Transmission:
Five-speed manual
Gear Ratios:

1:
2:
3:
4:
5:

3.063:1
1.826:1
1.286:1
0.975:1
0.756:1
Final drive:
4.176:1
Extra dimensions
Curb Weight:
2,936 lbs
Wt. Dist'n F/R:
61/39
Wheelbase:
102.4 in.
Track F/R:
55.7 in./ 57.3 in.
Length:
177.5 in.
Width:
66.7 in.
Height:
55.1 in.
Suspension
Front:
Independent multi-link with coil springs and anti-roll bar
Rear:
Rear Multi-link Beam
Brakes
Front:
11.0-inch x 0.9-inch vented discs
Rear:
10.2-inch x 0.4-inch discs
ABS:
Standard
Wheels and Tires
Wheel size:
6.0 x 15
Tires:
P195/60-15 all-season steel-belted radial tires
---