Sport Compact Car - November '97
Project 200SX SE-R
By Mike Kojima
---
[Put into HTML format by Mike Mager]
We take a breather from high-horsepower to tweak our factory audio system.
Although project SE-R's focus is high-end performance, the car regularly functions as a daily driver. Since Project 200SX SE-R serves us as this urban "escape pod" from the monotony of bumper-to-bumper traffic, we have added some details to make our commute much more enjoyable.
Improved Sound System
The stock Nissan sound system is, well, adequate. Adequate for aging Muzak-listening ears but weak in supporting the angry sounds of a generation of twenty-somethings! The stock sound system lacks highs and lows and the hardware doesn't have any provisions for a CD player or changer. On the plus side, it comes with the car and has a cassette player. Cool. Due to these shortcomings, it was deemed necessary to upgrade the system; we pitched the stock system in the trash and started from scratch.
We knew from the beginning that we were not going to build a sound-off winning SPL monster. A system like that can add up to 300 pounds to the weight of a car -- not the hot ticket for decent vehicle dynamic performance. The goals for the new system were to look cool and sound decent, while not adding more than 10 pounds of weight to the car. Moreover, we wanted it to be simple (no more than one amp), not necessitate cutting up the interior of the vehicle and to be quickly removable for race events. The sound quality was to be as good as possible while maintaining these parameters. We were looking for high clarity and smooth sound -- not your typical urban boom-boom jolt.
As our expertise is more along the lines of performance, we called upon the folks at Clarion to help with the upgrade, or if necessary, replace our ailing sound system. Mike Reis, OEM division manager, was instrumental in helping sort out the technical specs and the installation of this system.
A Clarion ADX8255 head unit was used to replace the stock unit. This head unit is a double DIN, high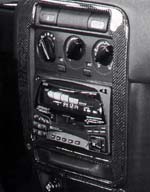 powered unit featuring 35 watts per channel internally -- three times the wattage amount in the stock unit! This negates the additional weight and complexity of a separate amp. The ADX8255 also features an internal CD player as well as controls for a remote CD changer. The ADX8255 has an internal graphic equalizer and selectable low-pass outputs eliminate the need for a subwoofer crossover. The included infrared remote control is a great feature for tailgate parties as is a digital signal processor to help improve sound stage. Finally, the ADX8255 has a neat LCD spectrum analyzer display to entertain your passengers.
To have a good selection of tunes on hand, a Clarion CDC635 CD changer was used. It holds six CD's and is incredibly small. With its silicon-oil damped suspension system, it has yet to skip -- even with Project SE-R's firm suspension. The CDC635 features dual 1 bit D/A converters -- just like expensive home units -- and a fiber optic digital output to cancel R/F interference. We mounted the CDC635 in the trunk using a Genuine Nissan Accessory installation bracket. This bracket has a shield guarding the changer from the impact of loose stuff in the trunk, a nice bit of extra protection. The changer can be removed quickly for weight reduction or, by unbolting two 10mm bolts and disconnecting the side mounted DIN cable, can maximize trunk space. With the changer removed, a passenger can still listen to CDs on the head unit's internal CD player.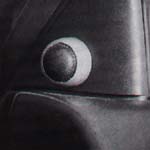 A big part in the stock audio systems lack of clarity was the speakers, with their paper cones and small voice coils, there was no way that they could produce a decent sound. We replaced the stock front speakers with Clarion's SRM291 soft dome tweeters mounted in the A-pillar finisher and SRS1601 woofers mounted in the stock front speaker location. The tweeters feature a swiveling base to easily place the soundstage. They also use rubberized silk for a smooth-sounding, non-resonating cone and a heat-resistant rare-earth Strontium magnet-fired voice coil. The woofers' performance is improved with a polypropylene cone with a butyl rubber surround and a heat-resistant Strontium magnet voice coil. A six dB passive crossover was used for a more seamless transition between the woofers and tweeters.
In the rear deck, Clarion SRR1020 four-inch coaxial speakers replaced the stock drivers. They feature a dynamic tweeter, a water resistant cone and a heat-resistant voice coil with a Strontium magnet.
the resulting system improved 100 percent over the stock Nissan assembly, but it was lacking the bass punch needed to overcome road and exhaust noise. As the bass drivers and box typically make up most of the weight of a high-performance custom sound system, Reis constructed a trick, removable, self-contained bass box finished in gray carpet to match the stock trunk liner. With its quick disconnect wiring harness and wingnut bracket (going through existing holes in the Stillen rear stress bar) it can be removed in an instant for more trunk room or to ditch its 30 pound weight for a competition event. The box uses a 10-inch Clarion SRM2591 subwoofer powered by a 100-watt Clarion APA2061 amplifier.
The subwoofer features a stiff, cast aluminum basket for efficient voice coil energy transfer, a rigid, polylaminate cone with a butyl surround, an eight-layer heat-resistant, back-vented Strontium magnet voice coil and gold-plated posts. The amp produces 100 watts maximum continuous power at 0.04 THD and also has a selectable low-pass crossover built in and and adjustable input level
To obtain the most efficient box volume, Reis determined the box dimensions through computer modeling.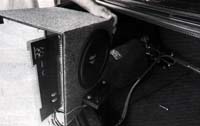 Box volume is a critical tool used in tuning the subwoofer's effectiveness; this is especially important as this system uses only a small 100 watt amp. He also installed a special radiused inlet and outlet vent (which resembles a velocity stack) in the box to prevent the vent from making farting noises as air rushes in and out of it. Typically a vent gives a 4dB boost to the sound level. The box was constructed of non-resonant particle board with glued and screwed joints that were caulked with non-hardening caulk to ensure an airtight seal.
The amp was mounted on a smoked Plexiglas plate on the side of the box where cooling air could easily circulate easily around its heatsink. All wires were hidden under the Plexiglas giving the box a clean custom look.
To clean up the exterior of the car we replace the ugly stock whip antenna with a Harada electric unit. When the sound system's power is switched off, the antenna smoothly retracts into the body. The antenna, quite nearly a direct bolt in, was a fairly easy installation.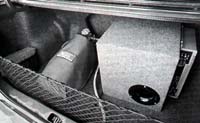 Our system is complete. Instead of fuzzy lyrics, we can listen to sweet tunes to soothe our work-shattered nerves on the commute home. It may not be a sound-off winner, but our improved system sounds a lot better than your typical custom install without dominating the entire vehicle or being a performance-sucking boat anchor.
S O U R C E
Clarion Sales Corp.
661 W. Redondo Beach Blvd.
Gardena, CA 90247
(310) 327-9100
(310) 327-1999
---
Reprinted with Permission